Press Release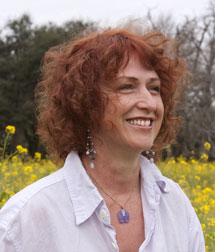 Pearls My Mother Wore
By
Terry Sue Harms
Hairdresser / novelist
Sonoma, CA March, 2010 –
I told Terry Sue Harms that I would help her write a press release but I would rather just tell you why I think her novel has merit even though she was illiterate into her 20s and is a hairdresser without an MFA.
Ruth Henrich of Salon.com said that her hairdresser had written a novel and she thought I might be able to help her.
So I met with Terry and copy-edited her novel for her. I corrected spelling and grammar mistakes. I made whole sentences out of run-ons and fragments. I also made one structural suggestion -- that she begin the novel where it begins today, with the protagonist returning home after the funeral of her husband and collapsing on the floor.
What I find admirable about this work is its untutored fidelity to internal phenomena, a fidelity that is at times clumsy but is also fierce and unrelenting. There are many ways to express grief, anger and revelation. A writer tutored in an MFA program might create a many-layered, lacquered sheen of grief, anger and revelation. What Terry has done, it seems to me, is make a large, true-to-life, lumbering monster of grief, anger and revelation. The monster has been made crudely but with the great loyalty of an innocent. What Terry seems to have done, and what interests me, is surrender herself to the material of consciousness that arrived unbidden, and she has done her best to be faithful to that.
From a literary aesthetic point of view, there are some "mistakes" in this novel. There are things that you might "wince" at if you are a sophisticated reader. But there is also something I find rare in contemporary fiction, which is the sense of a writer going naked into the war-torn field of her own dreams and traumas and reporting as best she can the truths about herself that she finds there.
So you might find this novel fraught with evidence of a beginner at work. She is indeed a beginner. She was, indeed, illiterate until she was in her 20s.
And I did work with Terry on this book and she did pay me money to work with her on this book. My wife designed this book and Terry did pay her money to do that.
But I am not really being paid to publicize this book. Terry was going to pay me to write a press release but I decided I ought to just say what I think. And this is what I think.
I hope you will take a look at this book and say what you think about it.
Cary Tennis
Read the column!
http://dir.salon.com/topics/since_you_asked/index.html
TOLL FREE 800 461-9130
For a review copy of Pearls My Mother Wore and contact information:
Terry Sue Harms
Author/Publisher
TsH Publishing
---